Which Class would Be Your Second Character for Patch 1.0.5
10/15/2012 6:04:22 PM
Although Patch 1.0.5 is not released yet, the Public Test Realm has unveiled a lot about the class change. Barbarian is so strong that in top Paragon level 100, Barbarian players have accounted 13. So the war cry has been changed. Witch Doctor and Monk are medium, not able to give much influence. Demon Hunter and Wizard are the main class that has been weakened a lot. Then which class would be your second character for the Patch 1.0.5?
If you are too busy with your Paragon level, you do not have enough time for the new character. Then I would have a piece of good news for you. Now the Level 1-60 Diablo 3 Power Leveling can be completed in just two days. This means you can have another complete new character just in two day. What's more the discount coupon "D3G" can enjoy 2% discount in the power leveling order. We have the business service of Paragon Level as well. For more information, you can go to our power leveling order page.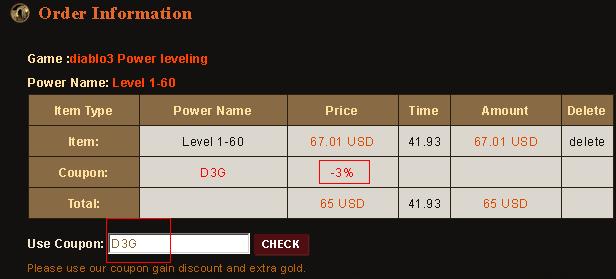 There are a lot of benefits to have more than just one character in your account. As the patch is always under destruction, you can not predict when your class will be weakened a lot. If you have several characters, then you are always having the back-up. Plus, when you pick the drops for other classes, you can keep it for your other characters. The most important one is that, PVP is still not out yet, you can try these classes and pick the perfect one for yourself for the coming PVP.
Now have you decided yet which class will be your second choice for the patch 1.0.5? The invitation code for Wheel of Fortune 2012/10/15 is "CODE-OI9JNSALXCOUJUJ". Try your luck and get the free D3 Gold to equip your new class.