Hurry to Join the Wheel of Fortune
10/5/2012 6:05:00 PM
Dear customers, welcome to our store. As one of the most popular Diablo 3 provider, we always provide best service to our customers. You will buy the cheapest guaranteed Diablo 3 gold with fast delivery speed in our store. Promotional activities are often launched to give our customers more benefits. Now an amazing opportunity to gain free Diablo 3 gold and other wonderful prizes is waiting for you. Have you already seized the activity or still do not know any details about it. Just read on, you will get some useful information whether you've already won the prize or not.
The activity Wheel of Fortune in our store has attracted many gamers' attention. A lot of gamers have joined this activity and won the big prize. They are so excited to be the lucky dogs. The following are the winners until 10/04/2012.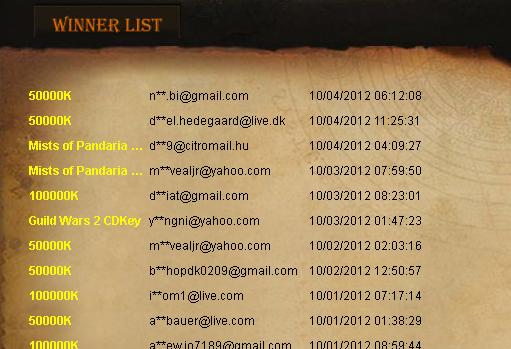 Do you find your email address? If the answer is yes, then congratulate to you. If the answer is no, never feel disapCoined. The activity is not finish yet. We will update the invitation code every day on facebook and news. There are many big prizes waiting for to win. Just keep an eye on us everyday to get the invitation code. You will be the lucky dog.
If you want to know the details of the Wheel of Fortune, please visit the Wheel of Fortune page of our website. Do not miss such good opportunity to get free Diablo 3 gold. The Wheel of Fortune will soon come to an end. So what are waiting for? The CD key of Mists of Pandaria and 100000k Diablo 3 gold are calling you. By the way, we also provide awesome Diablo 3 items with cheap price. Pay attention to us, we have more surprises and prizes for you.
Tips: the invitation code for 10/05/2012 only is "CODE-JJHAHOPIOE06D".