Buy Cheap Rocket League New Items - Rocket League Pass 2 Items Are Available On Goldkk.com
12/13/2018 9:08:17 AM
Rocket League Pass 2 has been released on Monday, December 10, and lots of new premium items are available in Rocket Pass 2 now. The good news is that new Rocket League items after level 70 are on sale at Goldkk.com now! Do you want to fast to get more Rocket Pass 2 items? Buy new items Rocket League or RL keys/crates here, you can enjoy cheap price, fast delivery and best service!
Here is the all Rocket League new items list.
Rocket League cars
Artemis GXT
Click Artemis GXT Rocket League price XBOX ONE entrence
Rocket League wheels
Daemon-Keipie
Gripstride HX
Gripstride HX (SE)
Madness II
Moko
Plasmatic
Polychrome
Rocket Forge II
Rocket Forge II (Holographic)
Sprocket
Sprocket (Infinite)
Teller
Click Wheels Rocket League prices XBOX ONE.
Rocket League decals
Future Shock (Global)
Watermelon (Octane)
Quick Fix (Road hog)
Alley Cat (Marauder)
Click Decals Rocket League prices entrance .
Rocket League Toppers
Alarm Clock
Camera
Drone III
Juice Box
Mad Bomber
Snail
Udder
Click these RL Toppers prices entrance .

Rocket League goal explosions
Quasar III
Click goal explosions RL prices entrance .
Rocket League trails
Tachyon III
Click this RL trails prices entrance .
Rocket League banners
Gold-Plated
Gamer Pad
RL Avatar Borders
Twinkle Box
Click these RL banners prices entrance .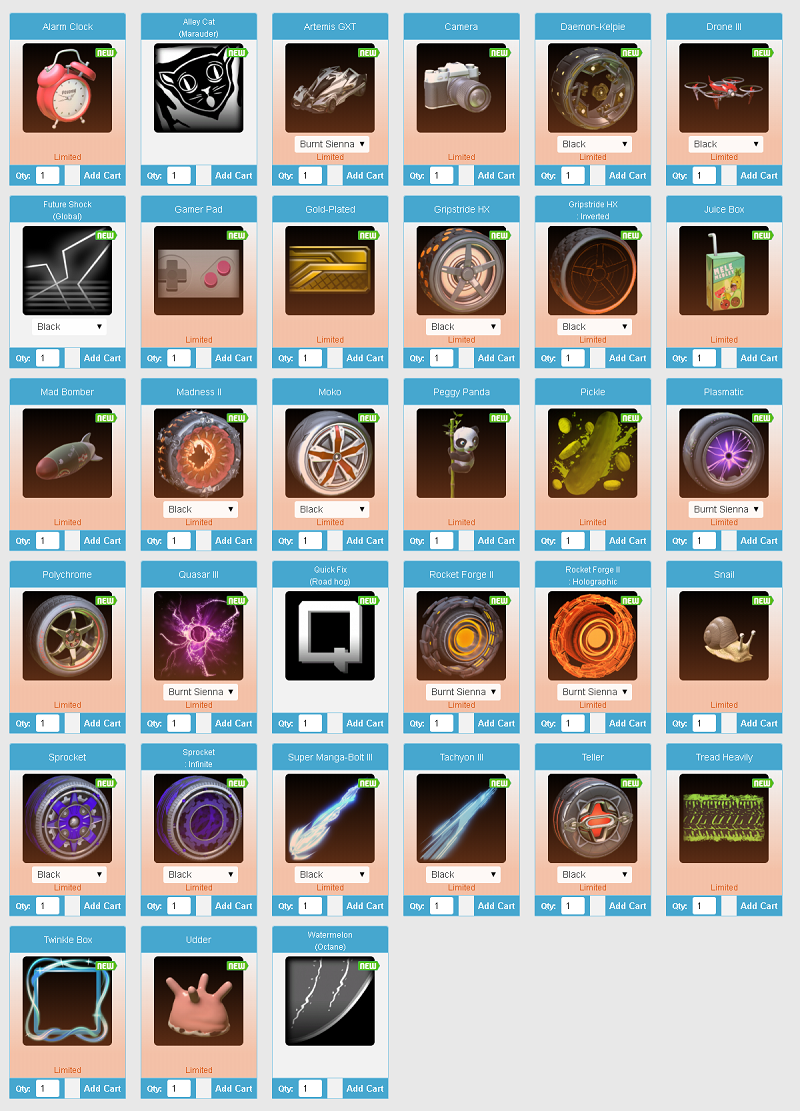 We also provide you the latest price trends for new RL items.
Buy Cheap Rocket League New Items On Goldkk.com
Buy new RL items here you can enjoy 5% off discount. Different platform has different Rocket League items prices , included: PS4, Switch, Steam and XBOX ONE. And as I know, the price will still be declined cause we adjust our price according to the time and we always provide clients with a big discount compared to the market prices.
The Most Reliable Store To Buy Items Rocket League
As the most reliable Rocket League items store, we've received great reputations in the market and we've been working on game currencies/items market for years. We guarantee that all your orders here will be safe and private. You can get budget Rocket League items without any worries.
Get New RL Pass 2 Items With Instant Delivery
We have a large stock of RL items to guarantee fast delivery. We always try our best to complete your order quickly after we have received and verified your payment. At least 98% of orders are completed within 10 minutes!
How To Buy New Rocket League Items On Goldkk.com?
1. Choose the game Rocket League on our homepage.
2. Select the platform you want the RL items you want you buy for.
3. Add the amount you want to buy to shopping cart, then click check out.
4. Fill up correct contact info and game info for instant delivery.
5. Click PAY NOW to complete your payment.
6. Once we get your order and payment, we'll arrange delivery for you immediately.