Diablo 3 Reaper of Souls and PRT closed, Path 2.0.1 available on 25 Feb
2/25/2014 5:56:16 PM
[Reaper of Souls]After the Diablo 3 PTR closed, most of players are concerned about when the Path 2.0.1 would online. There are lots of conjectures in Diablo III forum, while there is a big news from Twitter make us surprise! The Alex Mayberry post the news like this: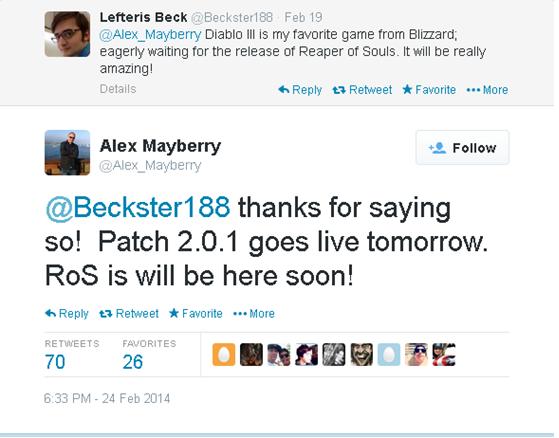 Yes, very surprising that the Diablo III: Reaper of Souls the beta and 2.0.1 PTR to the end. Although the beta servers are sometimes delayed slightly, overall we have a enjoyable gaming experience and many players are finding pleasure in it. For my personal experience, i think this closed test carried out very smoothly, and the result is great. How about your opinion? Whether this test make you feel unexpected? Are you really looking forward to "Diablo 3" rebirth in the new patch?
Welcome to vote!
What do you think of the beta of Reaper of Souls and Path 2.0.1 PTR?
1.Great, we finished the quest, it is time to close it
2.Need more adjustment about drop rate
3.The beta about Reaper of souls is short
4.Blizzard should open the beta to all players enjoy it
5.Nothing