Professional Diablo 3 Power leveling Service For Paragon Levles<img src="/img/hot.gif" style="height:25px;width:30px;" />
8/24/2012 5:42:23 PM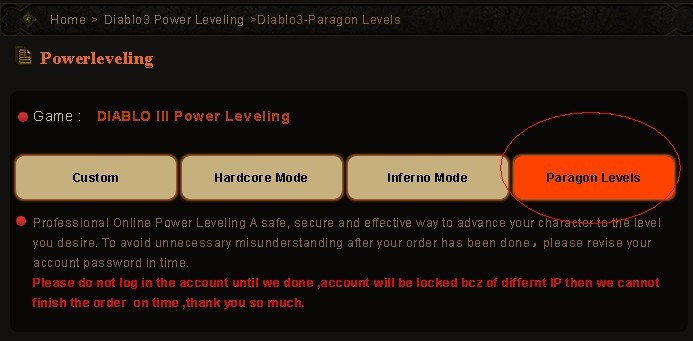 Diablo III Power leveling Service for Paragon Levels has been released for sale!
Welcome to Diabloiiigold.com! This is your ideal Diablo 3 Gold & Power leveling & Items Service store. Since the Blizzard development team have been working day and night to optimize the 1.0.4 Patch for Diablo III. We finally greet the coming of Paragon Levels! Considering the driving force for the 60 level players continue enjoy the game, Paragon Levels added more fun and challenge for the game. The total 300% MF/GF is the biggest surprise for us. How can we refuse the gifts from Blizzard. We have no need to mooching around the Action House to search the legend items. Just fighting in the ACT2, you can upgrade fast. Recently, some players according to them personally experience accounted the fast way to up at the highest level. As long as you can pass the ACT3 fluently more than 418 times that you can up to 100 levels. Sounds crazy? Why not turn to us?
As you know, we are not the professional Diablo 3 Gold supplier, but also the efficient Diablo 3 Power leveling team! There area four items you can choose.
Custom: The normal D3 Power leveling Just choose you current level and ideal level. Through the shortest time and the lowest price that you can up to desired level.


Hardcore Mode: Upgrade in Hardcore Mode



Inferno Mode: We can help you clear all quests in inferno Mode ACT1, ACT2, ACT3, ACT4.All the drops will be left in your inventory!


Paragon Levels: Fast and Safe upgrade!