Diablo III Reaper of Souls Beta Is Getting Closer
11/2/2013 10:31:40 AM
[Diablo III]Diablo III development team indicated at GamesCon that they hope to start the beta of new expansion in this year. After all, reaper of souls has game demos for players at that time. It's not a wise idea to make the gameplayers waiting for a long time. In this week, there will be a piece of breaking news of reaper of souls or some other good message at BlizzCon.

Many people supposed the new expansion would begin the beta before long but no obvious clues to prove that. The development team just said it would be "soon" without telling more details. And the latest sign was found at Battle.net. At account management page, you can log in to Beta Profile Settings among the choice of Hearthstone, Diablo, StarCraft and Warcraft. In a long time there are not any new changes but a tiny change happened. As you can see from the picture, the image for Diablo is Malthael. That maybe the hint of the start of reaper of souls beta.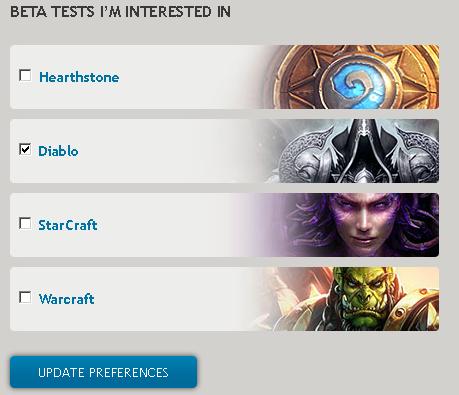 How do you think of the change at battle.net? Will the beta come soon after the BlizzCon or still need to wait a long time until 2014? Whatever, you need to prepare some diablo 3 gold in stock for it. Let's looking forward to more at BlizzCon. You can discuss it with us by leaving your feedback at specific page, too.