Diablo 3 T-shirt Design Contest
8/15/2013 10:33:29 AM
The year 2013 seems to be the ceremony of diablo3. Following the costume contest, the T-shirt design contest is coming. Blizzard Entertainment cooperates with Design By Humans and hold this competition together.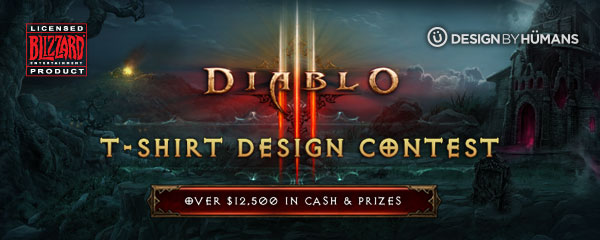 The contest submissions strarted at August 12th and will end at September 6th PST.
Design a T-shirt using elements in Diablo III, submit your artwork at Design by Humans' blog to win the prize. Different from the costume, competitors have the chance to win cash rewards up to $3500 in this match. Besides, there are additional nice gifts for winners.

Before the vote for the artworks, the hosts will need to view all of them. Blizzard and diablo3 logo, or any personal signs are not allowed to appear. The submission guidelines and rules can be seen at Design by Humans' blog.

The chance is right there for you. Burn your soul for the sake of your love. Share the design to let them be crazy for you.

For more news of Diablo III, go to diabloiiigold.com news page. Our best servixe is ready for your need of d3 gold.