The Analysis of Tank Monk in Patch 1.0.8
5/31/2013 10:30:20 PM
[Diablo 3 Guide]In the Patch 1.0.8, the life blood of monster decreased at 50% in the Multiplayer mode as well as the Firebats of Witch Doctor enhanced result in this profession becomes popular in the new patch. More and more players decide to take part in the Multiplayer, not only for the farming efficiency, but also for the fun with friends. At the same time, the Tank Monk was born from this patch. Therefore, there are lots of players make the discussion of the valuable of Tank Monk at present patch. As follow, this is the most popular skill build for Tank Monk.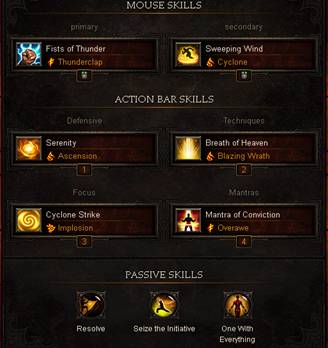 First, let's analyse the skill of Tank Monk. According to the Skill Build you can notice, the Cyclone Strike is the best skill to collect enemies for the group which would help you save time to chase the small monster. Except that, the Blinding Flash and Mantra of Healing is the wonderful healing skill which would blind monster and help allies to gain increased life regeneration. What's more, the Serenity would be the essential choice for your group to absorb all incoming damage. Sounds great?
Second, we would talk about the cost of Tank Monk equipments. As long as you pay more attention on the Armor and life Blood that would great to increase the EHP. What's the most important for Tank Monk? That absolutely is the save life and provide the buff of damage reduce. At present, the price of Diablo 3 Items has high vitality and armor is not expensive. Parts of armor we can get excellent attribute from Blacksmith, why don't you have a try?

Thirdly, as for my personally view that Tank Monk play an important role in the group. As a barbarian, i have experienced make up with Monk, Barbarian, and Witch Doctor. There is no doubt that speed of upgrading in the group is better for solo. Meanwhile, with the help of Tank Monk that we can choose high Monster Power level. Just spend little Diablo 3 Gold that you can get huge pleasure, you may have a try now!