Tips for Witch Doctor choose appropriate weapon in the Diablo III Auction House
4/2/2013 11:59:36 PM
[Diablo 3 Guide]In the Diablo III, the greatest pleasure is farming legendary Diablo 3 items and sufficient Diablo 3 Gold to buy preferable weapons in the Auction House. Before the 1.0.8 patch coming, we should prepare more gold and try our best to upgrade paragon level. Now, we will share some personal players' experience of how to choose ideal weapon to match the skill build.
Different from other professions, Witch Doctor has not high dodge chance, armor and controlling skills. So, the EHP is the most important factor for the Witch Doctor in high MP. Of course, the DPH is very important either. As for the WD, the mana is limited and would not increase per hits. Therefore, to increase damage per hit is the essential for Witch Doctor. About the choice of choosing Diablo 3 Items, you should choose the intelligence, average damage, critical hit damage and critical hit chance. We recommend the Zunimassa's set to guarantee the vitality and intelligence. What's more, the price would be reasonable for the Junior players.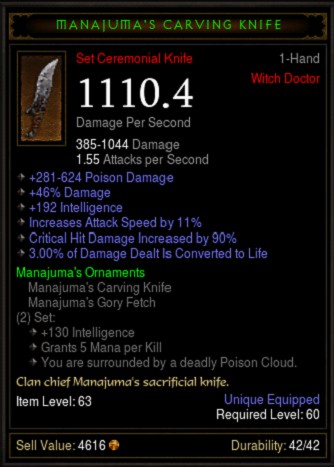 For the Witch Doctor, the most popular Diablo 3 weapon is the SKORN and MANAIUMA'S CARVING KNIFE. We choose two of these weapon for you to reference. As you see, the essential factors of attack speed increased, critical hit damage increased and life steal has strong attraction. In addition, the most important for the Witch Doctor is the 5 Mana per kill.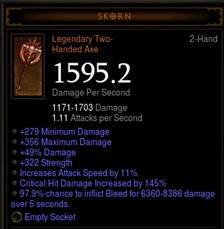 This weapon would better to improve your DPS sharply so that we should try our best to increase the survival ability. No matter the high intelligence, critical hit damage and chance to inflict bleed that Skorn would help you ensure the damage per hits. While, you should notice the gems socket. According to my skill build, to socket the red gem would better for my hero. The element additional would provide the continuous and stable damage per hit. You may have a try!
If you have a good ideal that you can share with us on our FACEBOOK Page. We are glad to give away the member Coins as the award. In addition, if you need to buy cheap Diablo 3 items that you can turn to our Auction House Assistant service. 24/7 live chat would help you enjoy our service comfortable!