The Diablo 3 Guide Sharing of Wizard Fast Way to Gain Experience in 1.0.7 Patch
2/25/2013 6:58:40 PM
[Diablo 3 Guide]The Diablo 3 1.0.7 has updated for a while, the age of rushing to upgrade in Diablo III has depended the meaning of farmig Diablo 3 Items.
Crafting: The addition of Demonic Essence result in the new age of depending on ourselves has coming! There is no need to stay at Auction House to bid the legendary Diablo 3 Items anymore and waste lots of time and Diablo 3 Gold. A place where take you so much money and time, you have no need to stay at all! During this time, the best way is farming Demonic Essence.
In the 1.0.6 patch, we always rely on Archon to survival in the low Monster Power level. After the 1.0.7 Patch has released, with the increased of experience and the items drop rate, we started to have a try on high Monster Power level. At present, the fastest efficiency of smashing monsters is the ACT3 MP 6!
Why should Archon Wizard choose high Monster Power level?
1. Archon: This skill not only has high DPS, but also own great offensive ability. If your weapon has the life steal or the life on hits, you are totally can output DPS stand at one place. As you see, it would help you save time so that you can improve your efficiency of farming D3 Gold.
2. The Wizard depends on the teleport is far more than other professions in the movement speed. We all know, the boring and vapid thing is running in the Diablo III.
3. The damage weakened of 1.0.7 back injury monsters, which result in the difficulty of high Monsters Power leveling has decreased. The Archon Wizard without the advanced weapon would better in the high Monsters Power level.

In fact, there are lots of merits and you may have a try right now!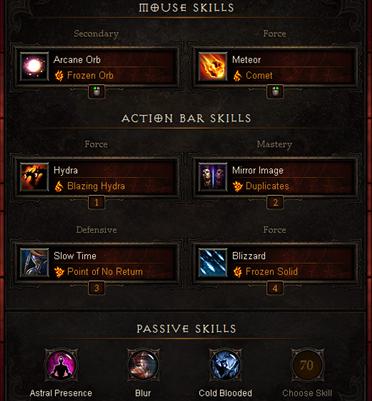 Tips:
1. The Glass Cannon would increase your DPS as well as decrease your offensive ability. For the Archon Wizard it is not cost-effective. The Archon Wizard has high DPS for himself, there is no need care about the little damage additional.
2. You have no need to match too much advanced skill, because the Archon Wizard only need to stand at here to target enemies.
3. We always need to rely on the Critical Hit chance of Critical Mass. Please be notice, the standard of critical hit chance is the essential factors for you survival in high Monster Power Level. The Critical Mass can refresh the CD time.
4. The choice of follower: The thief still the best choice, 5% critical hit chance arm with BURIZA-DO KYANON is the best partner for the Wizard.
5. The choice of Armor you can reference to your personal items and all resistance.

Thanks for your visiting!