Coupon Code "DDIB" Provides 6% additional D3 Gold for Each Order
2/2/2013 2:40:19 PM
[Diablo 3 Gold]Reviewing the past year, we always ask ourselves: Did we make every customer satisfaction? "Cheap, Security, Fast, Service" is the unflagging pursuit of Diabloiiigold. To meet the requirement of our customers, we optimizing our site everyday so that you can enjoy the best experience of purchasing Diablo 3 Gold fast and cheap.

As you see, we not only reduce the process of placing order but also we have released the new service, for example: Auction House assistance service and the specialized Mobile phone order page. Since then, you can buy D3 Gold through mobile phone at anytime. The convenient process would bring you different experience.

In addition, to release the coupon code regularly is the traditional in Diabloiiigold. From now on, you can use the Coupon Code "DDIB" to get additional 6% D3 Gold as long as you place order from there. As follow: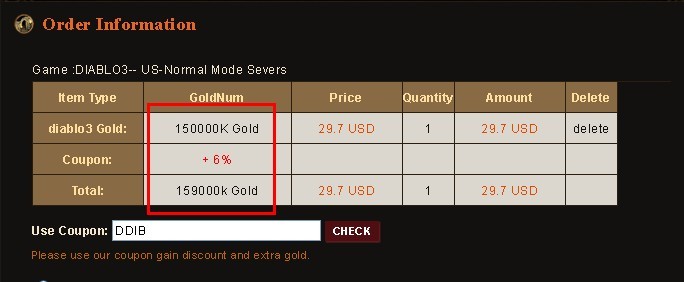 Hope you guys would enjoy the big discount in our store. Meanwhile, if your member Coins more than 100 that you can come to the member center exchange to free Diablo III Gold. 100 Coins = 5000k Gold. Sounds great? If you are the newbie in our site, you'd better register our free member as soon as possible. More benefits we will send to your e-mail.

Of course, you can set your mind at rest if you decide to buy gold from our store. We have daily tested by MaAfee Security. There is no spam and bots in our site, the secure online shopping environment for you in Diabloiiigold!