To buy Diablo 3 Gold through Mobile Phone Available on Diabloiiigold
1/31/2013 11:54:01 PM
[Diablo 3 Gold]Greeting everyone! This is the most popular Diablo 3 gold store which would provide the comfortable service with fast delivery and favorable price. No matter the cheap D3 Gold or the Diablo 3 items you can get what you want from there. Meanwhile, the professional Diablo 3 Guide would share with you regularly. To satisfy the requirement of every clients is our goal. Hope you would have a brilliant experience of purchasing Diablo III Gold in Diabloiiigold.com!
If you are the newbie in our store, we are glad to welcome your visiting. If you are the regular clients in our site, thank your trust extremely! In order to meet the requirements of our loyal clients, our staff of member has released the most convenient way to buy Diablo 3 Gold anytime by Mobile Phone.
As you see, there is the sign of Mobile Website in the right upper site of our store. If you visit our site through the phone, please click this icon you will come to the orders page. Steps as follow:
1.Click this sign enter into order page:

2.Choose the game you want. No matter the Diablo 3 Gold or the World of Warcraft Gold, even though the Guild Wars 2 Gold that you can get with the bottom price and fast delivery. As you know, we are the most professional one in this field.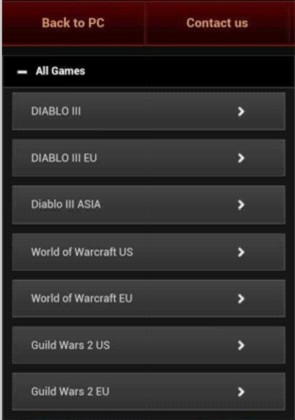 3. Just input your correct information and choose your payment. After the order has confirmed we will arrange delivery as soon as possible. In addition, you can input the amount of Diablo 3 Gold as you want. We are dedicate to providing the best service for you at 24 hours!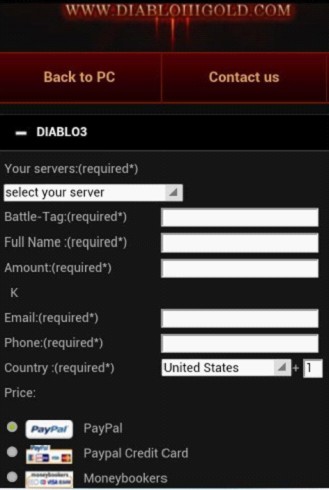 In the end, if there are some questions of buying Diablo 3 Gold from our store. We are glad you can leave the message on the FACEBOOK or the complaint center. Your feedback is our best way to optimize service better! Thanks for your visiting.