Diablo III Guide: Witch Doctor Prepared for the 1.0.7 Patch
1/14/2013 5:48:31 PM
[Diablo 3 Guide]The primary skill: Spirit Barrage - Well of Souls. This skill would target the enemy automatic with high damage. Now, the professional player analyses the advantage for you. Compared with the other Witch Doctor popular skills build, you should know the following Coins.
1. With the Zombies Bear as the primary skill, the DPS is unbelievable! While, it is hard to play full of advantage in PVP. As you see, the opponents are not the monsters but the hero which were controlled by the professional players. Meanwhile, it is tragic has the short trajectory.
2. Explosive Beast, it seems very powerful! Because the beast are automatic to target enemy with the fast movement speed. If your CD can reduce at 0 that you absolutely is the strongest one! While, if this skill weaken in the PVP system or other weakness profession wouldn't has no chance to survival.
3. Acid Cloud and Rain. There is no doubt, this skill build just for the upgrade fast. We supposed it will worthless in the PVP.
Now, it is my build: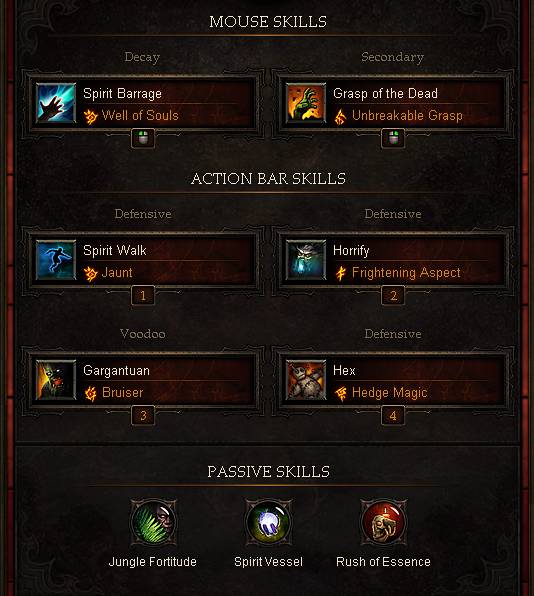 Spirit Walk + Jaunt: Increases the duration of Spirit Walk to 3 seconds. One more second means you increase the ability of survival.
Horrify: it provides the 100% additional armor meanwhile horrifies all enemies. It is the essential skills for escaping.
Hex: This skill is not sure, because it is unlikely to hex enemies into chickens always.
Grasp of the Dead: 80% reduce the movement speed. You can not only use this skill to chase the enemies, but also you can escape. Absolutely it is the necessary skills for Witch Doctor!

Passive Skill:

Jungle Fortitude: Reduces the damage, for my personally viewCoin, it is the necessary skill for the weak Witch Doctor.
Spirit Vessel: as long as you choose this skill you have added a new chance to survival.
Rush of Essence: In the situation without monster only has the opponent, this skills can replenish the Mana fast.

In the last, the most important is the equipment! As long as you arm with the gorgeous items that everything will ok! At present, the PVP still not open. Hope Blizzard development team would release the gorgeous PVP system as soon as possible. Let's burning the passion of Diablo III again!Welcome to our FACEBOOK Page join the discussion of Diablo III PVP. Huge amounts of Diablo 3 Gold has prepared for you, best service forever.