New Subscription Service for Diabloiiigold Clients Get More Bonus
12/12/2012 6:49:13 PM

[Diablo 3 Activity]Welcome to the most popular Diablo 3 Gold store, we are glad to announce the new service of Subscription has released now. As long as you subscribe Diabloiiigold that you would get the super discount, latest news of Diablo 3, promotional activity, upgrade guide through the e-mail regularly. Absolutely, we never send you spam. To keep the user satisfaction, we will send you email after you confirmed. The steps of subscribe Diabloiiigold: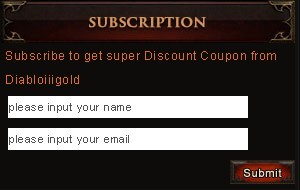 1. Under the right bottom is the window of Subscription. As you see, just input your username and e-mail and click submit. We will send you confirmed email after seconds, please click the link and give us permission to send you email. Fast and easy.
2. After obtained your permission, we will send you the Code help you get 6% extra D3 Gold. Of course, the big discount only for the man who is the subscription players. In addition, we will send the Invitation Code for you participate in "Wheel of Fortune" get big prizes.
3. As you see, Diabloiiigold not only a reliable Diablo 3 Gold supplier, but also a professional Diablo 3 guide store. We will according to your requirement send you the useful guide help you upgrade fast and farm gold easy. We aim to provide the most comfortable service for everyone.
4. Meanwhile, we will inform you the latest news of our FACEBOOK activity. The reason why we create the public page on FACEBBOK is providing a convenient and comfortable discussion platform. Our staff of member are sincerely welcome you come to here share your Diablo 3 gaming experience with us. As for our view, Diablo III not only an online game but also a life style. We love life, we enjoy life and we share life. Why not tell us the most interesting thing you encountered in Diablo III?
More bonuses to return our loyal clients have prepared. Stay tuned !