Time to Change Member Coins into Diablo 3 Gold
5/29/2012 5:43:30 PM
A big good news for you. Finally there comes the time for you to change member Coins into Diablo 3 Gold. There is a record of the money you spend in our store, and this will change into member Coins systematically.
The system works like this. 100 Member Coins=100K Diablo 3 Gold. There would be several options for you to choose as 100 Coins, 200 Coins and so on. But all the options are several times of 100 Coins. 100 member Coins can get 100K Diablo 3 gold. One US dollars you spent in our store and you can get one member Coins. As to the detail of your member Coins, (You need to sign in first to see this). If you find there is some thing wrong about your member Coins, you contact us through live chat. In conclusion, the more you spend in our store, the more you can get free Diablo 3 Gold.
First, to get Member Coins, you need to sign up our site first. In the middle of the top, you should find the register part as the first picture. Enter your email and password. click the sign up button to go to the second part. Or you could Register here to direct you here.

Second, fill in your personal information as the second picture.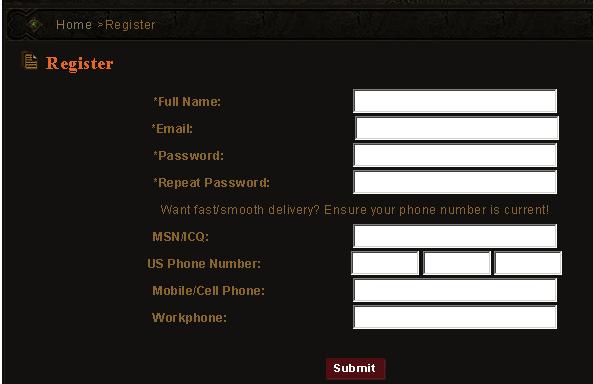 Third, now you can sign in now. Remember to sign in first before every order to win the member Coins. Sign in and you would be directed to the member centre where you can see your member Coins and exchange it into gold.

To get member Coins, you should sign up for our store first. Sign in before you make your order. Only when you sign in and be our member can you get the member Coins. Regularly we would give our member discount coupon to get the cheapest Gold price possible. If you write an original article about the fast leveling or class guides, you can get unique discount coupon as well. Please send your article to this [email protected] . In the subject column, you should write "contribution for discount coupon". As to how large the coupon is, this all depends on how excellent your article is.
For latest news, please keep a close eye on our news section. Thanks for your trust in our store.